What Are the Differences between Shrink Films and Stretch Films?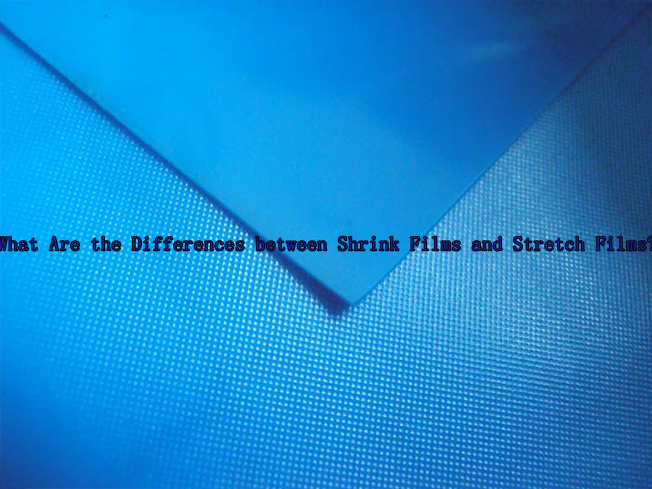 To stretch or to shrink? That is the question. Ho do stretch film and cling film differ from each other? Have you been tasked with ordering in the film wrap for your company's requirements? Did you presume that a couple of clicks of a button and your job would be complete? Did you log onto a stretch film manufacturer's sales page and nearly pass out at the wide variety of products on offer, each claiming to be perfect for different jobs.
Stretch or shrink? Shrink or stretch? Do not panic, I have done a little research to make the choice simpler for you! Though both the products look very similar, they contain different properties and have opposing characteristics. This means both products serve different purposes whilst each performs their duties exceptionally well.
In essence, stretch film manufacturers will see his product used to wrap products on a skid or in a retail cage. Wrapped tightly, either by hand or machine ensuring the contents is not only secure but that they are protected from both theft and damage. This is due to the properties of the stretch film creating a tight, almost plastic effect.
Shrink film will not take on any of the characteristics of the stretch film until it has been heating activated. It is often used in retail situations to hold multiple items in one place. Soda bottles, glass bottles, loose candy, and even fresh produce can be placed in shrink film and have heat applied. They are then rendered safe to transport or to display for sale. Much larger items can be wrapped in shrink film, things of irregular shape, even vehicles that are being stored outside and need protection from moisture and dust, can be shrinking wrapped too.
Is any stretch film manufacturer worth his salt will tell you that his product is very clever and that no-one would believe that just a piece of plastic was capable of stretching to amazing capacities and becoming a very strong, tough barrier that protects against any eventualities? The wrap is commonly made from linear low-density polyethylene (LDPE), this is what gives its exceptional elastic property and makes it highly stretchable. The elastic's recovery capability ensures that items remain tightly bound. One of the most common uses is to keep products safe and secure on skids or in retail cages. Most warehouses will place their orders neatly onto a cage, similar to an open-sided, tall metal trolley, and use stretch film to secure the goods whilst in transit or to keep same from harm while in storage.
It is a very simple chore, tie the end of the roll to the base of the cage, hold the cardboard inner tube and run around the cage whilst slowly moving the wrap higher. Concentrate on maintaining the tension. Once the entire cage is enclosed, simply rip it off and you are good to go! It really couldn't be easier. If this sounds too much hard work, grab a colleague and get them to turn the trolley while you stand still with the stretch film! In my humble opinion, this is the lazy option and nowhere near as much fun! Stretch wrapping by hand means the film can grow by an impressive 25-100%! Once it is stretched, the film becomes taut and gives your cage a hard plastic feel. It's perfect to protect our products for either storage or transport.
Not all delivery drivers will be as considerate about your goods as you are! Securing skids and pallets is simplified with stretch film. Once your goods are loaded, the use of a specially designed machine enables you to wrap your goods to much greater tension, ensuring a stronger, more solid containment. Auto-stretch wrapping equipment allows your film to stretch to an amazing 150%-350% of its normal size. It will form that protective all' again. Its strength provides phenomenal safety for your product, making it difficult to puncture and almost impossible to steal from! The very high levels of tension even make transporting heavy, sharp-edged house bricks and block a safe and secure job.
Stretch film manufacturers really do have an amazing product, designed to absolute perfection on their hands.
Shrink film looks very similar to stretch film but behaves in a very different way. Its powers do not lie within its elasticity, it is not possible to wrap something in shrink film and walk away. The heat causes the air to be evacuated so that the package shrinks tightly. The process is performed using a heat gun, torch or tunnel. It needs to receive heat from a source before it reacts and becomes ideal packaging. It is fabricated from a much lower density polyethylene (LDPE) and polyolefin plastic, and under very specific parameters. It can be ordered pre-printed with your branding or company logo.
Shrink film is the ideal solution to packing food and commodities that otherwise would dislodge or break during transit. It works for irregularly shaped packages too. Imagine putting 12 bottles of ketchup in a truck and driving down a bumpy road, not pretty! Cover items in the plastic film to create a sealed bag, then blow heated air across them until the film to draws in and shrinks back until it conforms to the shape of the product. The shrink film appears to soften, almost melt and mold around the goods.
Shrink wrapping keeps items safe from damage and breakages, dust and moisture. It is suitable to use when you have something that needs storing in conditions that are not ideal. Such as a car in a damp and dusty garage,…shrink film will do the job. Seriously, if you have the time and patience to wrap a car, this can, and has, been done! Larger businesses will have a purpose built heat tunnel with a conveyor belt that passes through, enabling goods to be shrink-wrapped in high volume.
When deciding which packing is ideal for your products, a good rule of thumb is it's to go on a skid, it will need to be shrink-wrapped, if it is to secure a skid, contact your local stretch film manufacturers and place an order!
Both of these products are fantastically fit for purpose, brilliantly designed and manufactured whilst remaining relatively inexpensive when considering the phenomenal results they achieve. If you thought that stretch wrap's only use was to wrap your lunchtime sandwiches then you were sadly misguided, get on the phone to your local stretch film manufacturers and order a skid load!