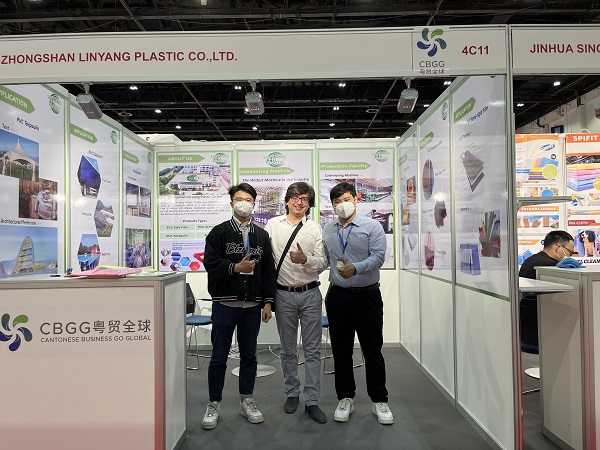 After the suspension of all non-essential activities due to the Covid-19 pandemic.The effects of the epidemic greatly conditioned worldwide fair.
Our (Zhongshan Linyang Plastic Co., Ltd.) international marketing team has not gone abroad for nearly 3 years. Finally, at the end of last year,
we has participate in the 13th China (UAE) Trade Fair held at the Dubai World Trade Center from 19th December to 21st, 2022.

The scale of this exhibition: 45,000㎡, 1,400 booths are expected. And setting: textile and clothing, lighting fixtures, hardware tools, food and beverage, furniture,
building materials, home gifts, electric new energy, consumer electronics, household appliances, plastic industry etc.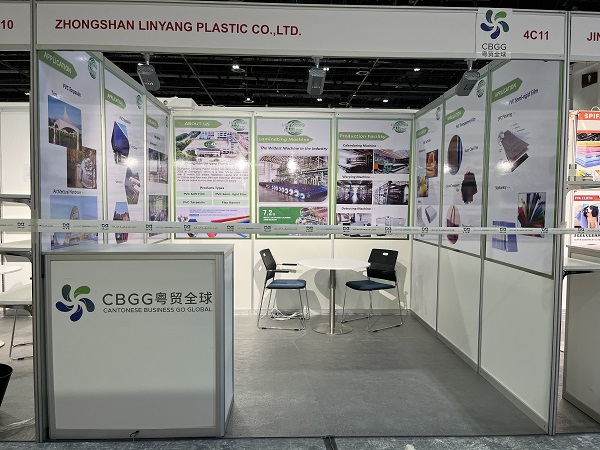 Even in the face of multiple risks and challenges such as anti-globalization and the new crown epidemic, we still hope to have face-to-face communication with customers,
so that customers can deeply feel our sincerity. We are proud to present our most demanding products
(soft multi-colour/Normal clear / super clear / translucent PVC Film / sheet and PVC Tarpaulin) in this influential event.
and make the customers can fully understand we are the No.1 manufacturer in the world to produce this width product(6.6 m wide PVC Tarpaulin and PVC film).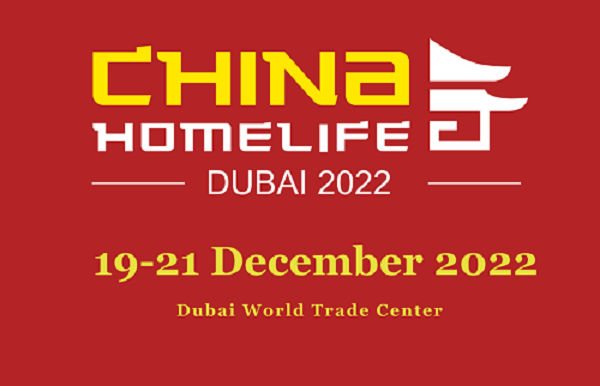 Starting from the needs of buyers in emerging markets along the "Belt and Road", this exhibition breaks the traditional foreign trade service model, and integrates big data,

the Internet and exhibitions into an onlineand offline cross-trade comprehensive service platform. Layout of the "Belt and Road" offline exhibition, B2B e-commerce,
BTC cross-border e-commerce, settlement center, buyer procurement center, brand franchise chain, manufacturing franchise, eight innovative foreign trade integrations ,
relying on the platform advantages of the layout of the "Belt and Road" and the use of resource

integration capabilities in professional fields to help Chinese companies develop the "Belt and Road" market;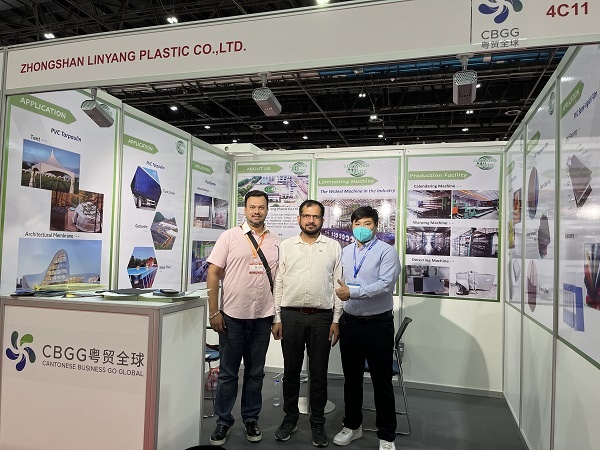 【Professional services to enhance customers】
The product is the rudder and the service is the sail. At this exhibition,our manager Mr.Charlie and his colleague Mr.Frank provide customers with professional technical support

and explanations to help customers understand and in-depth in multiple dimensions. Helping the customers has a further understanding of the PVC materials industry
and expanded the scope and field of cooperation of zhongshan linyang Plastic Co.,Ltd. The epidemic did not stop the enthusiastic exhibitors and visitors.

The customers and visitors who participated in the exhibition were obviously professional and purposeful.
Hundreds of buyers from various countries came to negotiate at this exhibition,

laying a good foundation for Zhongshan Linyang Plastic Co.,Ltd. to develop the international market in 2023!
Attached the brief introduction:
1. PVC Tarpaulin and Flex Banner
2. PVC Film
2.1 Inflatable toys PVC film 2.2 Decorative PVC film 2.3 Translucent PVC film
2.4 Transparent PVC film 2.5 Normal PVC film
Product Application:
Application of PVC Tarpaulin: 1. Advertising Flex Banner; 2. Eco-Agriculture Tarps
3. Geotextile; 4. Tent Tarps; 5. Membrane structure architecture; 6. Truck Cover
Application of PVC Film:
1. Inflatable toys PVC film; 2. Decorative PVC film; 3. Protective film; 4. Eco-Agriculture Tarps; 5. Electrical tape; 6. Plastic shower curtain; 7. Plastic tablecloth; 8. Plastic raincoat / Plastic umbrella