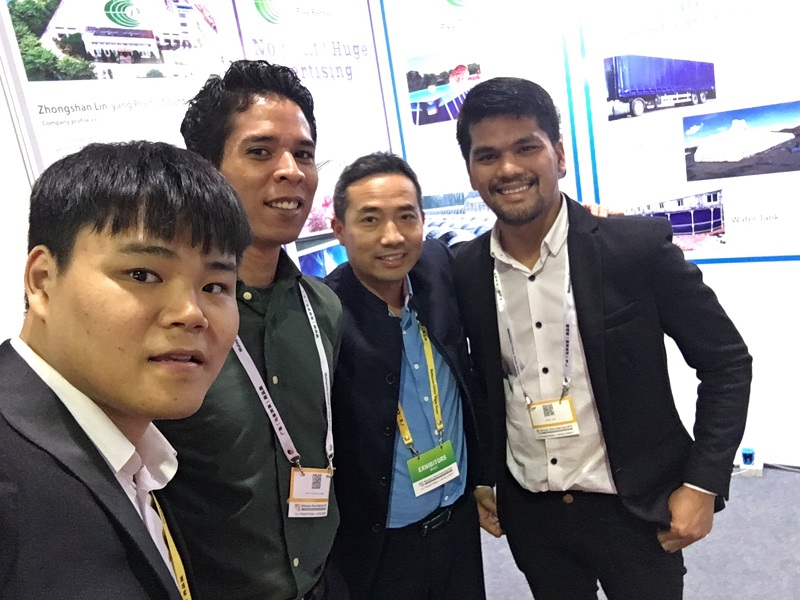 In order to further develop the Malaysia market and increase our market share in the Malaysia market, we came to the beautiful Kuala Lumpur from November 7 to 9, 2019 with high quality samples and eager to meet customers and participated in Malaysia-China Trade Expo 2019(MCTE).
Malaysia-China Trade Expo 2019(MCTE)is an overseas exhibition platform organized by the department of commerce of Guangdong province, the office of Guangdong province in southeast Asia (Kuala Lumpur) and Guangzhou exhibition service center co., ltd. at the world Trade center (PWTC) in Kuala Lumpur, Malaysia in November 2019.Through the exhibition, we can explore the latest technology, discover the market trend, and watch the on-site demonstration of equipment and products.
This exhibition is a comprehensive exhibition, showing a wide variety of products, including home appliances, furniture, personal care, building materials industry, etc. Our PVC Tarpaulin and PVC film products are classified as building materials products.
Exhibition attracted a lot of leading enterprises in the industry to participate. Before the exhibition, we invited the related customers to come to our booth for business discussion. During exhibition, we showed our company's main products of PVC Tarpaulin, PVC film for promotion, face-to-face talked with customers and got very important market information and customer feedback on the quality of our products, it can help us produce marketable products and improve product quality.
In this exhibition, we mainly promote PVC Tarpaulin, which can be applied to the advertising industry, ecological agriculture, inflatable products, tents, etc., introduce our company's technology and products to them more deeply through the materials we bring, and further promoted the project we were talking about.
In addition to the previous customers, I also got to know a lot of new customers through this exhibition. Although they did not purchase a lot of products, we benefited from our communication in production technology.
In the exhibition, we mainly introduced to the customer our advanced equipment -- PVC calendering and laminating unit with a width of 7.2m, which can produce PVC Tarpaulin and PVC film with a width of 6.6m. Thanks to this advanced equipment, we have become the first manufacturer in the world to produce this wide product.6.6 m wide PVC Tarpaulin and PVC film. on the one hand, improved the overall industry technology innovation level and the China plastics industry in the international popularity, solve technical pain points. on the other hand, reduce the operation risk, such as applied to outdoor advertising flex banner, without joining together can perfect show up to 6.6 meters wide, greatly enhance the wind resistance, eliminate the stitching.
Through this exhibition, we also learned about the overall economic and industrial development of Malaysia, as well as some understanding of the local conditions and customs of Malaysia, strengthened the communication and understanding with customers, promoted the progress and determination of the project, and accumulated better resources and experience for the subsequent business expansion of the company.
Attached the brief introduction:
1. PVC Tarpaulin and Flex Banner
2. PVC Film
2.1 Inflatable toys PVC film 2.2 Decorative PVC film 2.3 Translucent PVC film
2.4 Transparent PVC film 2.5 Normal PVC film
Product Application:
Application of PVC Tarpaulin: 1. Advertising Flex Banner; 2. Eco-Agriculture Tarps
3. Geotextile; 4. Tent Tarps; 5. Membrane structure architecture; 6. Truck Cover
Application of PVC Film:
1. Inflatable toys PVC film; 2. Decorative PVC film; 3. Protective film; 4. Eco-Agriculture Tarps; 5. Electrical tape; 6. Plastic shower curtain; 7. Plastic tablecloth; 8. Plastic raincoat / Plastic umbrella