What is Singles' Day?
Double 11 is also called Singles' Day as anything with '1' in means single in China. It falls on November 11th annually (11-11 is the date with the most '1's)
Started in 2009, it has become the biggest shopping festival in the world, similar to, but grossing several times more than, Black Friday in the USA and the Boxing Day and January sales in the UK.
The major e-commerce sites in China, such as Tmall, JD.com, and Suning, offer large discounts and promotions to boost their sales during the shopping festival. Double 11 is the most anticipated festival of the year for China's consumers.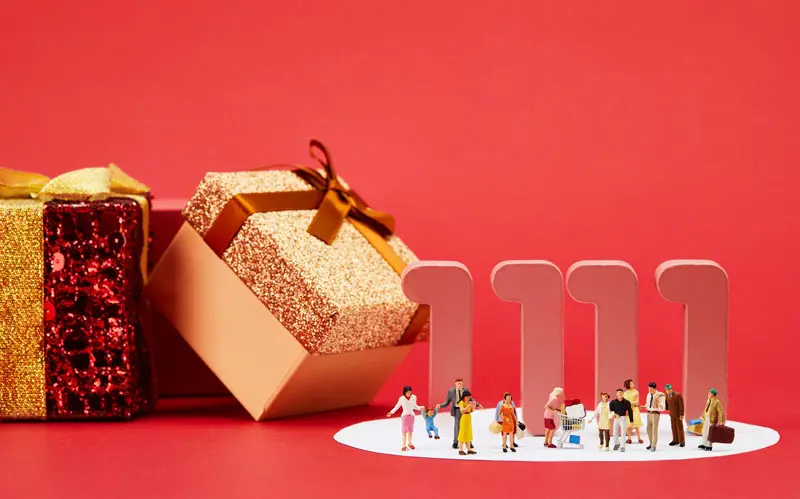 The history behind Double 11
November 11th (Double 11) was nominated by students in 1993 as a day to celebrate singledom or "anti-Valentine's Day" in China. 11.11 was selected thanks to the symbolic nature of the number one where shoppers were encouraged to celebrate and be proud of their single relationship status while treating themselves to a special purchase.
Alibaba spotted an opportunity to leverage this event turning Singles' Day into a national shopping holiday. They first held the mass-scale shopping festival in 2009 in collaboration with a handful of brands and it was an immediate success with Chinese shoppers. Total GMV on the Singles' Day 2009 reached around US$7.8 million, surpassing the average daily GMV that year by almost seven-fold.
The opportunity for international brands
Singles' Day or Double 11 Festival has grown to become an unmatched opportunity for international brands to engage with loyal customers, develop new and dedicated product launches, and gain thorough consumer insights.

Blurring the lines between shopping and entertainment, shopping platforms and social media platforms alike adopt increased elements of social commerce and promotions into their offerings. Alibaba has been known to build up excitement for the shopping event with new site or app features which remain guarded until the grand reveal on Double 11 itself. Livestreaming and gamification with the use of influencers or KOLs (Key Opinion Leaders) have become increasingly popular methods of driving brand awareness and boosting demand generation on marketplaces.
It can feel like a missed opportunity if you don't purchase anything at this festival.
So welcome to inquire with zhongshan linyang plastic co.,ltd. We are the leading pvc film and pvc tarpaulin manufacturer in China. will give you the best price!!!