With the Chinese New Year around the corner, we are sincerely here to thank you for your long-term support and trust in Zhongshan Linyang Plastic Co.,Ltd. in the past year.

We wish you and your family happy New Year in 2023!
Our company will be on holiday from 7th Jan to 1st Feb. The office normally receives messages and emails (ly27@tsaiyang.com / ly07@tsaiyang.com)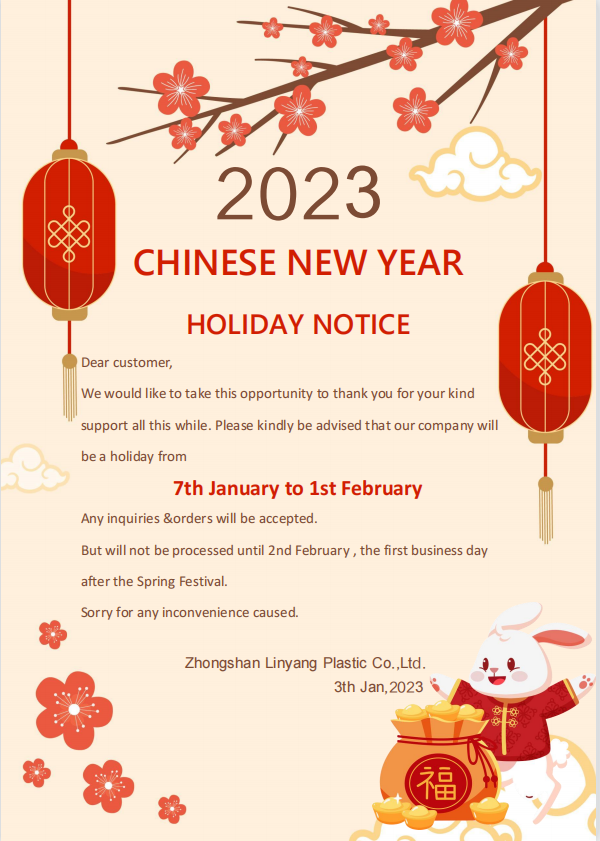 Zhongshan Linyang Plastic Co.,Ltd. since its inception, specializing in the production of a wide range of plastic products,
including soft super Clear film, normal transparent film, color film, environmental friendly film, inflatable film , flocking film,
laminating film, stationery film, decorative film, tablecloth film and embossing tape used in inflatable, table cloth, decoration,
stationery, adhesive products, printing, laminating, packaging, handbags, etc.
In addition, we also specialized in the production of colorful PVC Tarpaulin products, can be used in advertising, tents, agriculture,
inflatable toys, pools, irrigation and other industries.At present, the company has six advanced PVC calendering production lines,
and one calendering and laminating unit that can produce 6.6m wide PVC Tarpaulin with a monthly output of 2500T.

Thank you for your understanding again!